« WONDERFUL SPEECH!! | Main | Shark Frenzy-The Secret Party »
May 07, 2004
Famed dropout drops in to get Kean degree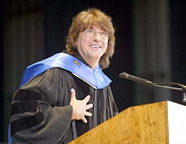 Bon Jovi guitarist joins ranks of stars with honorifics.
NJ.com : The Star-Ledger

Famed dropout drops in to get Kean degree Bon Jovi guitarist joins ranks of stars with honorifics

Friday, May 07, 2004
BY KELLY HEYBOER
Star-Ledger Staff

Richie Sambora spent only three semesters at Kean University and, by his own admission, he was a so-so student before he quit.

But the Bon Jovi guitarist put on a graduation gown at Kean's commencement yesterday and accepted the university's highest degree -- a doctorate in humane letters.

"I would appreciate it if you all referred to me today as Dr. Sambora," he told the cheering crowd of nearly 18,000 that packed the PNC Bank Arts Center in Holmdel.

Sambora was the first of about a dozen celebrities scheduled to pick up honorary doctorates at college commencements around the state this month. From Alec Baldwin at Montclair State to Wynton Marsalis at Bloomfield College, schools are hunting for A-list and B-list names to grace their graduations.

Traditionally, nearly every college in the nation hands out honorary doctoral degrees during spring graduation to honor big donors and prominent scholars. But, in recent years, more and more schools have been courting celebrities to spice up their ceremonies.

The honorary doctorates -- which come with the honorary title of doctor -- hold little real value. But in exchange for the honor, the celebrity usually offers a few words of advice to the new graduates. When schools fail to land a big name, there is often grumbling by students.

This year, both Baldwin and filmmaker Kevin Smith are scheduled to pick up honorary degrees at Montclair State University's commencement. Marsalis, the jazz trumpeter, will join jazz vocalist Valerie Capers at Bloomfield College's commencement. Former U.S. Poet Laureate Robert Pinsky will be honored at Rutgers University

Other notable honorees include: African-American studies scholar Cornel West at the College of New Jersey, Steve Forbes at Caldwell College and former Democratic presidential candidate Carol Moseley Braun at Ramapo College.

Princeton University, which has attracted Oprah Winfrey and Spike Lee to past graduations, will keep its honorary degree recipients a secret until the morning of the June 1 ceremony. But the university has announced Jon Stewart, host of Comedy Central's "The Daily Show," will be honored at Class Day the day before graduation.

At Kean University yesterday, honorary doctoral degrees were awarded to Spanish-language radio talk show host Malin Falu and Merck & Co. Chief Executive Officer Raymond Gilmartin. A posthumous doctorate was awarded to attorney Kenneth Estabrook, the late chairman of Kean's board of trustees.

Kean officials said they chose to add Sambora, arguably their most famous dropout, to the list of honorees in recognition of his success with Bon Jovi and his philanthropic work helping area victims of the 9/11 terrorist attacks.

It didn't hurt that most of the graduates grew up listening to Bon Jovi and the 40 top-40 hits Sambora co-wrote with band founder Jon Bon Jovi.

"Just as the characters in some of your best-known songs struggle through their lives, so too did many of our graduates struggle to make it through to this day," said Linda Lewis, the university trustee who introduced Sambora.

Though his band has sold more than 100 million records and played concerts around the world, Sambora said receiving the honorary degree from his old college was one of the greatest days of his life.

The co-writer of "Livin' on a Prayer" and "Wanted Dead or Alive" took the honor seriously, authoring his own commencement address about how to succeed in the "university of life."

"There is no magic potion. No secret formula. There's just absolutely no substitute for hard work," he said.

He also advised the new graduates to never stop dreaming, because anything is possible.

"Look at me, I'm a kid from a dead-end street near a swamp in New Jersey -- Woodbridge, N.J... And hey, did I happen to mention that I'm married to Heather Locklear?"

Sambora, 44, who wore his graduation gown over a pair of jeans and boots, brought his parents to the ceremony. His actress wife was in Toronto preparing to film a movie and could not attend, he said.

Sambora is not the first member of Bon Jovi to receive an honorary doctorate in the band's home state. In 2001, Jon Bon Jovi picked up an honorary doctor of humanities degree at Monmouth University's graduation.

As he waited on stage to receive his degree, Sambora signed autographs for fans and chatted with Gov. James E. McGreevey, the commencement's keynote speaker.

After the ceremony, a still-grinning Sambora slipped out the back door clutching his framed doctoral degree. He said he planned to celebrate by going to a club in Clinton to play in a band with some old friends.

They had better get used to calling him "Dr. Sambora," the guitarist said.

"I'm taking this along," he said, holding up his new degree.

Posted by riesambo at May 7, 2004 04:34 PM