« Michael Jackson's deal to keep debtors at bay | Main | Live review: PGS LIVE!! »
April 16, 2006
BON JOVI: OSAKA, JAPAN #4
Osaka 2 days : I'LL BE THERE FOR YOU (electric version featuring Richie Sambora on lead vocals)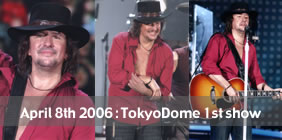 BON JOVI ar currently on tour in JAPAN. They've played two shows in TOKYO and one show in NAGOYA. Last night (Friday, April 14th) they played the OSAKA DOME in OSAKA, JAPAN. Now, for the first three shows of the Japanese tour, Jon Bon Jovi began the show by performing LAST MAN STANDING out on the Front of House mix position (just like he did for much of the arena runs earlier in the tour.) He would then make his way to the stage, through the crowd - again, just like in the US/Canada dates of the past few months. However, when it came to the acoustic portion of the show, even if the band performed BLAZE OF GLORY, it was not done from a platform out in the crowd. The venue (baseball stadium) didn't allow for that type of production.

So, for the OSAKA show, Jon decided to change things up a bit. Check out the set list:
GREAT BALLS OF FIRE (everyone opened the show from the main stage - all members of the band, including Jon, performed the Jerry Lee Lewis classic.)
YOU GIVE LOVE A BAD NAME
CAPTAIN CRASH & THE BEAUTY QUEEN FROM MARS
RUNAWAY
THE RADIO SAVED MY LIFE TONIGHT
JUST OLDER
NOVOCAINE
BORN TO BE MY BABY
STORY OF MY LIFE
EVERYDAY
IN THESE ARMS
WELCOME TO WHEREVER YOU ARE
I WON'T BACK DOWN (Tom Petty cover as intro to...)
HAVE A NICE DAY
WHO SAYS YOU CAN'T GO HOME
IT'S MY LIFE
I'LL BE THERE FOR YOU (electric version featuring Richie Sambora on lead vocals -- and Jon left the stage only to turn up elsewhere...)
BLAZE OF GLORY (acoustic -- with Jon performing this out on the Front of House mix out in the crowd! )
BED OF ROSES (acoustic version -- Jon sang while making his way back to the stage through the crowd. And that's how Japan experience some of what the arena shows experienced.)
BAD MEDICINE (including SHOUT)
RAISE YOUR HANDS
LIVIN' ON A PRAYER

encores:
COMPLICATED
WILD IN THE STREETS
I'D DIE FOR YOU
I'LL SLEEP WHEN I'M DEAD
WANTED DEAD OR ALIVE

The band has another show in OSAKA tonight (Saturday, April 15th) then one final show in JAPAN in SAPPORO on Tuesday the 18th... then they come back to the States. They'll be spending Easter in Osaka -- so from them to you and yours, whatever you're celebrating this weekend, have a wonderful holiday wherever you are.
Posted by riesambo at April 16, 2006 06:07 PM