« Nagoya Dome #3 | Main | Michael Jackson's deal to keep debtors at bay »
April 14, 2006
BON JOVI -- NAGOYA Recap
BON JOVI played at the NAGOYA DOME in NAGOYA, JAPAN tonight (April 12) for crazed BON JOVI fans... check out the set list just in from Japan!: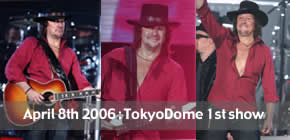 LAST MAN STANDING
YOU GIVE LOVE A BAD NAME
COMPLICATED
BORN TO BE MY BABY
STORY OF MY LIFE
CAPTAIN CRASH & THE BEAUTY QUEEN FROM MARS
I'D DIE FOR YOU
THE RADIO SAVED MY LIFE TONIGHT
I WANT TO BE LOVED
EVERYDAY
I WON'T BACK DOWN (Tom Petty cover as intro to...)
HAVE A NICE DAY
WHO SAYS YOU CAN'T GO HOME
IT'S MY LIFE
I'LL BE THERE FOR YOU (acoustic)
BLAZE OF GLORY (acoustic)
BAD MEDICINE
RUNAWAY
RAISE YOUR HANDS
LIVIN' ON A PRAYER

encores:
BELLS OF FREEDOM
NOVOCAINE
I'LL SLEEP WHEN I'M DEAD
WANTED DEAD OR ALIVE

Whoa... we're half way there... half way through the dates in Japanese stadiums. So, goodnight from Japan -- JBJ will be doing radio to US country stations tomorrow night his time in Japan - check the news section for those details...
Posted by riesambo at April 14, 2006 06:45 AM